Service Date: September 3, 2021
Interment Info: St. Mary Cemetery (Ft. Mitchell)
Service Info: St. Barbara Catholic Church
Obituary
Service Info
Interment
Condolences
Gallery
Michele Ann Williams (nee Sterling), 70, of Villa Hills, KY, passed away on August 26, 2021 at University Hospital after a long battle with a deteriorating pulmonary illness that was exacerbated by her contracting COVID-19. Michele always had a smile on her face despite the battles in life she faced. She served on the boards of Covington Catholic High School and Notre Dame Academy, she was an avid advocate for the care of the disabled at Drake Hospital, and she always enjoyed going to Siesta Key with her family.
Michele is survived by her loving husband of 46 years, Dr. J.D. Williams; her children, Dr. J. Ryan Williams (Erin), M. Renee Jones, and Tara Williams; and her siblings, Glen Sterling, Mary Kay Sterling, Gemma Zembrodt, Jan Zembrodt, Mary Pat Lewis, and Fr. John Sterling.
Michele also leaves behind her 7 grandchildren, whom she adored.
Mass of Christian Burial will be on Friday, September 3, 2021 at 10:00AM at St. Barbara Catholic Church.
Masks and social distancing are mandatory.
The family requests that if you are eligible for the COVID vaccine, but have not been vaccinated, that you attend her funeral mass from home via livestream link: www.stbarbaraky.org
 In lieu of flowers, please make memorial contributions to: Sisters of Notre Dame Retirement Fund 1601 Dixie Highway, Covington, KY 41011.
To share a memory of Michele or leave an online condolence: www.linnemannfuneralhomes.com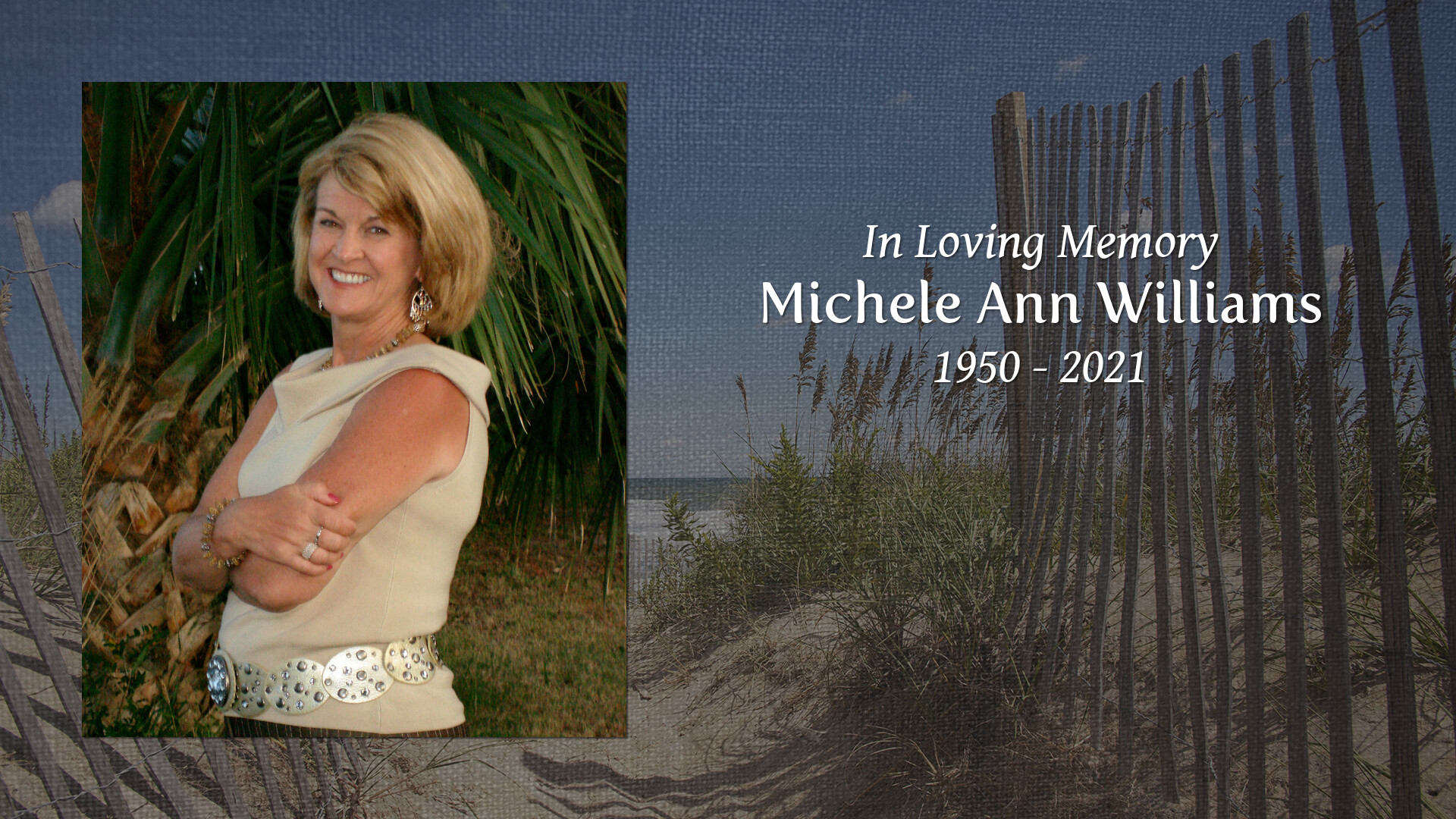 Memorial Tribute Video for Michele Ann Williams
"When someone you love becomes a memory, the memory becomes a treasure."
Michele's Life Story
(Written by Marsha Linnemann with memories shared by The Williams Family)
Michele Ann Williams loved and lived fully, touching the lives of others in very special ways.  Always the life of the party, she was fun-loving and light hearted. She remained positive and optimistic, regardless of what life threw at her. She gave everything her all, and she expected others to do the same, as she was the sort of person who didn't expect more out of others than she was willing to do herself.  With unending devotion to her loved ones, she treasured her roles as wife and mother, but Michele just might have argued that nothing was better than becoming a grandmother. So deeply loved, she will be forever missed.
Michele was born October 20, 1950, to Elmer and LaVern Sterling in Covington, Kentucky. Michele was the middle child, the "peacemaker," joining older brother, Glenn, and sister, Kay. Soon Gemma, Jan, Mary Pat, and John completed the family; their three- bedroom home in Edgewood was filled to the brim with family. They were a close-knit family and Michele often mothered the younger siblings. Elmer supported the family working as a plumber. John recalled once having borrowed Michele's car and returning it damaged. He tried to hide the unfortunate situation, but Michele, never to be fooled, just laughed about it.
Michele was an excellent student; she attended St. Pius School and Notre Dame Academy. At Notre Dame Michele forged lifetime friendships that continue to this day. The friends get together for a monthly book club, as Michele was an avid reader.  Every Friday they gather for lunch to laugh, recall special times, and support each other through the seasons of life. Following her graduation from high school in 1968, Michele became a novice with intent to join the Sisters of Divine Providence. Michele often joked about this, as her stay was short-lived due to her high-spirited, lively ways.
Michele embarked on what her family referred to as her "hippie phase," when she drove her VW beetle sporting flowered stickers playing "In-a-Gadda-da Vida" loudly. She trained to be a Licensed Practical Nurse, and began working at St. Elizabeth Hospital as a surgical-scrub nurse. At St. E's, Michele met the handsome intern, J.D. Williams, in 1974, and the couple married September 19, 1975.
The Williams Family relocated to Milwaukee, Wisconsin in 1976, while J.D. finished his urology residency. Michele worked at the local pediatric hospital as a surgical nurse. Life changed for Michele and J.D. when they welcomed twins Ryan and Renee, in 1978. Michele was the consummate mother. Ryan said, "Mom wasn't afraid to get her hands dirty!" She would join the children outside to play in the snow, build a fort, or bait a hook while they were fishing. She was an active mother.
After residency, the Williams Family moved to Maysville, KY, and J.D. started his urology practice. When daughter Tara was born in 1981, her special needs meant Michele drove three times a week to Children's Hospital in Cincinnati. It was soon evident a move to Northern Kentucky would make life a little easier for the family.
The children attended Blessed Sacrament Elementary Schools. Michele was a very hands-on Mom; she volunteered at school and was ever present cheering loudly at their sporting events. When Ryan went to Covington Catholic High School and Renee attended Notre Dame, Michele served on the boards for each school.
The family loved to spend weekends at their cabin at Perry Park. It was a special time where life slowed down and there was no television; family time was holy. At Perry Park they spent time fishing at the lake, and while Michele claimed to be a good golfer, what she enjoyed most was the camaraderie.
Michele frequently invited her nephews and nieces for an overnight or weekend visit. They all loved to hide out in Aunt Shell's pantry where she had a myriad of special treats. She loved kids and they loved her. She also entertained friends and family; she was the Martha Stewart of hosting and knew how to make everyone feel welcome. She made a mean Manhattan and Old Fashioned, and was a bourbon aficionado. Michele exemplified resilience; once when the dog ate half of her liver pate', Renee recalled, "Mom just reshaped it."
Tragedy struck the William's when daughter Tara was hit by a car in 2004. Michele was a fierce advocate for Tara and worked tirelessly to get the best treatment possible for her. Her strong advocacy also helped other patients at Drake Hospital get the care they deserved. Tara and Michele always had a strong spiritual bond. When told of Michele's death, Tara felt she already knew.
The Williams' loved to vacation in Siesta Key. It was Michele's happy place. She would load up the kids and head to the beach and J.D. would join them whenever he could. Especially in later years, these trips created special memories for family and friends. Ryan attributes his move to St. Petersburg, Florida to his desire to be close to his parents when they wintered in Florida.
No story about Michele would be complete without mention of her strong faith devotion to her God. She had a special love for St. Therese of Lisieux; " Miss no single opportunity of making some small sacrifice, here by a smiling look, there by a kindly word; always doing the smallest right and doing it all for love." Ryan noted that Michele's middle name is Ann, as was Mary's mother's name. He said "Mom taught me how to love my children."  Michele trusted God in all things. J.D. said "She made me a better Catholic." Her strong faith in God through difficult times was a wonderful example to others. Her faith and confidence in heaven brought her great joy.
Michele and JD loved to travel with friends, and together toured much of Europe. When Michele visited Ireland, where she was able to trace the Sterling family history, she fell in love. She delighted in finding the church where her relative served as a priest.
Michele was fun to be around. She loved to decorate and was good at it. She could be goofy at times, sticking black licorice on a tooth or telling some "Elmer Jokes' after her father, Elmer. She loved to dance and sing and generally livened up any party.
When grandchildren; Zachary, Nathan, Mackenzie, James, Annabelle, Kate, and Charlotte began arriving, Michele found a new purpose in life. She would drop everything and travel to take care of her grandbabies. She so adored them, and didn't hesitate to travel even to England to help Renee with her baby.  She knew how to create a fun environment where children felt safe and loved and had a great time.
Michele held diverse interests and talents. She worked diligently to make an afghan for each of her grandchildren. She was a talented photographer who had her own dark room, and she created a montage of Tara's life in black and white photographs. Many commented that it would be the envy of most professionals.
Michele began having some pulmonary issues which caused her to slow down a bit. During the year of Covid she remained cautious due to her increased risk being immunosuppressed. Recently, she became ill and tested positive for Covid.
Michele continued to fight as hard as she could, as she was a strong woman who did as much as her body would allow.
Sadly, with her husband by her side, Michele finished her fight and went to be with her Lord on August 26, 2021.
Michele Williams will be remembered for her beautiful smile and love of others. She was a selfless giver, a loving wife, mother, grandmother and sister. Her greatest legacy will be that she Loved and Cared! She will be greatly missed.
10:00 am
St. Barbara Catholic Church 4042 Turkeyfoot Rd.
Erlanger, Ky 41018

St. Mary Cemetery (Ft. Mitchell)
Address: 2201 Dixie Highway Ft. Mitchell, KY 41017
12:00 am - 12:00 am
Michele Ann Williams
,

Thought & Prayers
---
Andrew Tkach
---
Miss Michele
---
Michele Williams
---
Dr. Williams
---
My heartfelt condolences
---
Words cant describe our feelings
---
so sorry to hear of this great loss
---
Deepest sympathy
---
A woman of faith
---
Prayers
---