Service Date: October 8, 2021
Visitation Info: Linnemann Funeral Home Erlanger
Service Info: Linnemann Funeral Home Erlanger
Obituary
Visitation
Service Info
Condolences
Gallery
Bernard "Bernie" Schrage, of Union, KY , passed away peacefully on October 3, 2021 at the age of 70. Bernie spent 30.5 yrs. as a Maintenance Technician at the United States Postal Service located in Cincinnati, Ohio. Bernie was a dedicated husband, father, brother and papaw. He was happily married for 46 years. He never missed his grandchildren's games, even if it meant he had to drive all over the area to make multiple games. He was an avid Outdoorsman and always enjoying camping, hunting, and fishing. He greatly enjoyed  working on projects around the home, and tinkering in the garage.  He also enjoyed yearly trips with his wife in their motor home traveling out west, vacationing with family, motorcycling to California or down Route 66.
Bernie was born on October 23, 1950, son of late  Bernard W. and Cecilia Mary Schrage (Kallmeyer). He was preceded by his sister, Lorraine Schrage. Bernie is survived by his wife,  Carolyn Schrage, his 3 children,  Jason Schrage, William (Jessica) Schrage, Angela (Eric) Klotz, and his grandchildren Kendalyn Schrage, Haylie and David Klotz. He is also survived by his sisters, Mary Collins and Laverne Ferguson and numerous nieces and nephews.
Visitation will be held Friday, October 8, 2021 at Linnemann Funeral Home, Erlanger from 12:00pm to 4:30pm. A memorial service will follow at 4:30pm. Immediately following the memorial service, family and friends are invited for a gathering for the celebration of his life at the home of:
Eric & Angela Klotz
7895 Castlewood Lane
Burlington, Ky 41005
In lieu of flowers, donations can be made in memory of Bernie Schrage to Kentucky Fish and Wildlife Foundation at https://kentuckywildlife.com/support.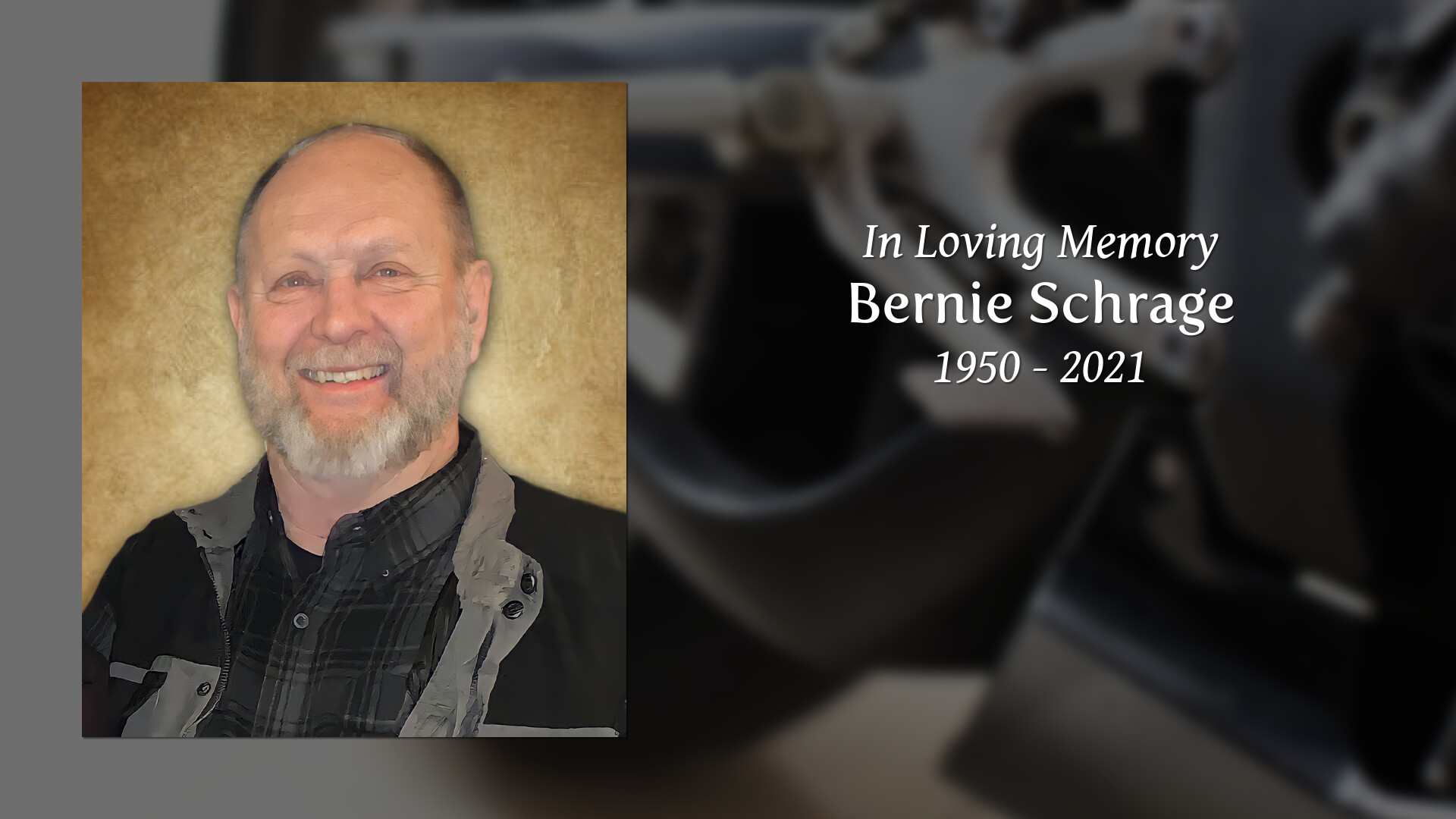 Memorial Tribute Video for Bernie Schrage
"When those we love become a memory, those memories become a treasure."
12:00 am - 4:30 pm
Linnemann Funeral Home Erlanger 30 Commonwealth Avenue
ERLANGER, KY 41018

4:30 pm
Linnemann Funeral Home Erlanger 30 Commonwealth Avenue
ERLANGER, KY 41018

Bernard "Bernie" Schrage
Address: ,
12:00 am - 12:00 am
Bernard "Bernie" Schrage
,

Good Friend
---
He'll always be Number 1
---
Sympathy
---