Service Date: September 11, 2021
Visitation Info: Linnemann Funeral Home Erlanger
Interment Info: St. John Cemetery – Ft. Mitchell, KY
Service Info: Blessed Sacrament Church
Obituary
Visitation
Service Info
Interment
Condolences
Gallery
Julie Dammert, 67 of Ft. Mitchell, surrounded by her family, passed away September 6, 2021 at St. Elizabeth Hospice. Julie graduated from Villa Madonna Academy, and earned her bachelors in nursing at NKU. Julie worked as a nurse at St. Elizabeth North, Covington. But first and foremost Julie loved being a mom and was a wonderful wife and friend. She also was a mom to Patrick's friends and enjoyed spending time with them, tailgating at UK games. She enjoyed playing golf, rooting on the Wildcats, going down to Keeneland, and going out with her friends. She also enjoyed traveling to Florida and sipping on bourbon slushies or mint juleps and always could make you laugh.
She was preceded in death by her father Robert Hollenkamp and grandmother: Josephine Corbin Baas. Julie is survived by her husband of 42 years: Michael Dammert, mother: Jean Hollenkamp and son: Patrick (Betty Abdon) Dammert. Julie always looked forward to being a grandmother, regrettably fell short by three weeks to her granddaughter: Erin Elizabeth Dammert. We hold comfort in that Julie is Erin's guardian angel. We She was also survived by her sisters: Janine (Casey) Hill and Jennifer Dewberry, nieces: Jordan (Conner) Scales and Samantha (Kim) Hoekstra, and nephew: James K. (Sarah) Hill, and numerous other friends and relatives.
A visitation will be held Friday, September 10, 2021 from 2:00pm to 6:00pm at Linnemann Funeral Homes, Erlanger. A Mass of Christian Burial will be held on Saturday, September 11 at 10:00 am at Blessed Sacrament Church, Ft. Mitchell. Burial will immediately follow at St. John's Cemetery, Ft. Mitchell. Memorial contributions can be made to St. Elizabeth Hospice. Online condolences can be left at www.LinnemannFuneralHomes.com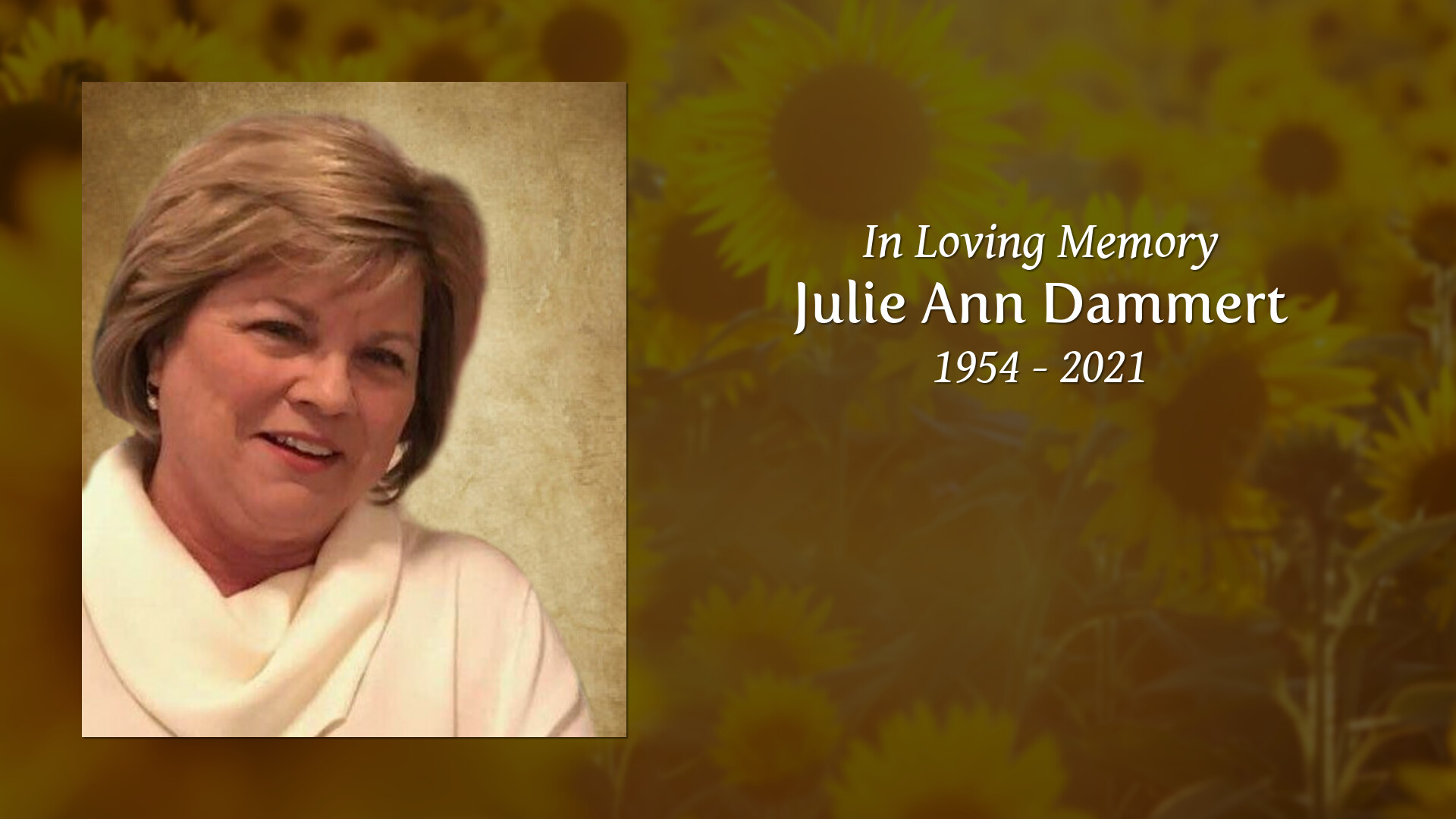 Memorial Tribute Video for Julie Ann Dammert
"When the ones you love become a memory, those memories become a treasure."
2:00 pm - 6:00 pm
Linnemann Funeral Home Erlanger 30 Commonwealth Avenue
ERLANGER, KY 41018

10:00 am
Blessed Sacrament Church 2409 Dixie Hwy
Ft. Mitchell, KY 41017
Phone: (859) 331-4302
St. John Cemetery – Ft. Mitchell, KY
Address: 1 St. John Rd Ft. Mitchell, KY 41017
12:00 am - 12:00 am
Julie Ann Dammert
,

There in the beginning.
---
THINKING OF YOU
---
My sincere condolences
---
From a Villa Madonna Classmate
---
Thoughtful and caring
---
One of the best
---
Thinking of you
---